According to the CPSC, drownings are the leading accidental cause of death in ages 1-4, and in summer 2018, 148 children under the age of 5 drowned in a pool or spa.
These statistics speak for themselves: we need to do a much better job of keeping our kids safe when we're around water.
Life jackets (also known as PFDs – personal flotation devices, or life vests) are essentially the best way to keep safe in the water. If you're going to be out in a boat or kayak, your child should absolutely have one on.
Life jackets are not a substitute for adult supervision. Please always have your attention on your children when around water.
The different types of personal flotation devices.
There are three different classifications of life jackets: Type I, Type II and Type III.
Type I is designated for people stranded in rough, open water that won't face rescue for a while. These typically aren't made for children.
Type II is what you should be focusing on. When you think of a life vest, this is the type you're thinking of. They're typically designed for people close to land, and they're not as bulky or expensive as Type I jackets.
Type II jackets are designed to upright an unconscious person in the water. If your child falls into the water, these jackets will keep their head and face out of the water—making them the ideal choice.
Type III jackets are made for use close to shore and are not designed to upright an unconscious person. While they're the most comfortable, they are not designed for children under the age of 16.
Type IV mainly covers things like life preservers thrown to help a person in distress. Not suitable for these purposes.
Type V is designated for special-use jackets and you likely won't run into these while shopping for a life jacket.
I'd strongly recommend a Type II jacket for infants or small children, especially if you'll be out in a boat. Most of the jackets you'll find available for children will fall under Type II.

A word of warning.
The US Coastguard says that life jackets for children under 18 pounds might not offer a proper fit:
The Coast Guard does not recommend taking infants onboard a recreational boat. The PFDs currently available for newborns up to 18 pounds may not provide a proper fit to perform as expected.

Unless the parent is able to test their newborns out in a PFD, sized for infants, in a swimming pool, they will not know if that device will float their child with his/her head out of the water. You must be sure you know the PFD you have works for your infant.

Otherwise we recommend the child not be exposed to any risk in a boat on the water.
Therefore, when you buy a life jacket, you absolutely must test it to make sure it works properly and that the fit is right before you take it out in a boat.
You can test it in a wading pool or even a tub. But please just make sure you test it first.
By law, in the United States, all children must wear a life jacket in a moving boat. The age cutoffs differ state-by-state, and you can look up the laws for your particular state on the BoatUS website.
No matter what the law states, however, you really should have your child in a life jacket at all times if you're in a boat. Even if they hate it.

Look for the US Coast Guard logo.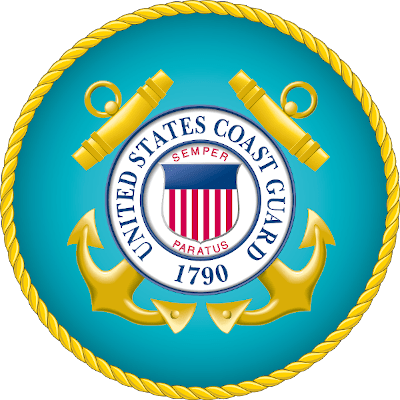 Any good life jacket will be approved by the US Coast Guard.
The manufacturer should state that it is, and there will be a logo on it somewhere, too.
When it comes to the laws requiring life jackets, if it's not USCG certified, it doesn't meet the requirements.

Why a proper fit is absolutely necessary.
It's extremely important that the life jacket fits properly.
Infant life jackets are typically sized by weight, and you should get one that's precisely the right size. Don't be tempted to size up, because if it's even just a little too big, it's not safe.
To make sure it fits, there are a few things you can do:
Pull the jacket up. If it is able to touch their chin, it's too big.
Raise their arms above their head. If the life jacket touches their ears or chin, it's too big.
You can also try lifting them by the shoulders of the jacket, and if they slip through it, it's too big.
On the other hand, it's usually pretty easy to tell if it's too small. If they seem like they're struggling to breathe properly, or it seems too snug, it's probably too small and therefore unsafe.
Do the float test first.
The best way to test out your new life jacket is to take them to the pool. Then, when the life jacket is on them, gently place them face-down in the water.
If the jacket is working properly and fits properly, it should flip them onto their back instantly, keeping their face out of the water.
If this doesn't happen, don't use the life jacket. It's not safe, so, unfortunately, you're gonna have to get a different one.
Don't buy used. Ever.
Life jackets expire, and it's unsafe to use an old one. Especially an old one that someone else used, and you have no idea how well it was taken care of.
If a life jacket is left in the sun, it can become brittle and the inner foam can become waterlogged, making it less efficient, if it works at all.
A life jacket isn't expensive, and it's not worth saving a few bucks to get a used one. Just get a new one! It's well worth it.
Features of all good baby life vests.
There are 5 main criteria I think are absolutely vital in any good life vest for young children:
United States Coast Guard Seal of Approval: means it's tested and safe.
A flotation collar: keeps their head above the water.
A crotch strap: to secure it tightly to their body.
A grab loop: to quickly get them out of the water if they fall in.
Vibrant color: This is especially important if you'll be using the jacket in open water. A jacket that's bright orange or yellow will easily stand out in the water in the case—heaven forbid—an accident occurs.
Puddle jumpers vs. life jackets.
A common question we get asked is if a puddle jumper is a good substitute for a life jacket.
The simple answer is: no.
A life jacket is simply much safer than a puddle jumper, and they're simply not designed for infants.
If you have a toddler, you might get away with it if you keep your eye on them always (which you should be doing anyway).
But if you're at the beach, the ocean is completely different than the water at a pool. The undercurrents and riptides can seem minor to you, but can easily overpower a small, experienced swimmer and knock them down.
Unlike a good life jacket, a puddle jumper won't keep your child's head above water. No good.
It only takes a split second for something awful to happen, so please don't risk it. Use a life jacket, not a puddle jumper.
Our recommended baby life jackets.
There are a handful of good choices when it comes to life vests.
The following are all US Coast Guard Approved and meet my 5 criteria above. Please remember to get one that's the proper size for your child, however!
Our #1 pick: Stohlquist Unisex Nemo Infant Life Jacket
My favorite infant life jacket! The Stohlquist Unisex Nemo (click here to check the price) is a good, comfortable option; the front is cut in a V-shape, so it doesn't get in the child's face.
Of course, it's USCG certified and has a crotch strap and grab handle, like any good life vest. Unlike the Sterns, this one isn't quite as bulky, so it's a little more comfortable to wear, especially for longer periods of time.
A lot of parents talk about how well this fits their young babies, even as young as 8 weeks old! Of course, you should be extra careful that it fits properly when you try it on, but it's hard to find one that works for children so young, so this is nice.
All things considered, this is a pretty great baby life jacket that comes highly recommended.
Our #2 pick: Stearns Infant Classic Boating Vest
The Stearns Infant Classic Boating Vest (click here to see it in more detail) has a float above the neck designed to keep the child's head above the water if they fall in, and of course, meets all of my criteria, being Coast Guard approved and with a strap and rescue handle.
It's suitable and designed for children under 30 lbs, and supposedly fits 8 pounds and up.
I read an online post from a grandmother who said their child fell into the lake wearing this life jacket and it immediately flipped them onto their back, so that's pretty awesome.
Unfortunately, it's not super comfortable, but there's not really a such thing as a comfortable life vest. It gets the job done.
It comes in blue, red and orange, but when buying a life jacket, I recommend a more neon color, because it's a lot easier to see in the water.
Our #3 pick: O'Neill Wake Waterski Infant USCG Vest
Another jacket that fits well on younger kids, the O'Neill vest (click here to see it on Amazon) has very good reviews and a lot of parents say it does exactly what it should: flip the kids onto their back if they fall in the water.
It has all of the proper safety features: USCG approval, crotch strap, it's a Type II vest and it has a rescue grab in the case of an emergency.
It seems to be more comfortable than the Stearns jacket, and kids don't whine much when wearing it. But I mean, it is a life jacket, so it's not overly comfortable. At least it's less bulky.
It has an inflated neck support, which keeps the head elevated if they fall in the water, and is reliable and safe.
What's best is that it's not very expensive! It's pretty cheap for a good, safe life vest for babies.
For older kids & teaching to swim: Stearns Kids Puddle Jumper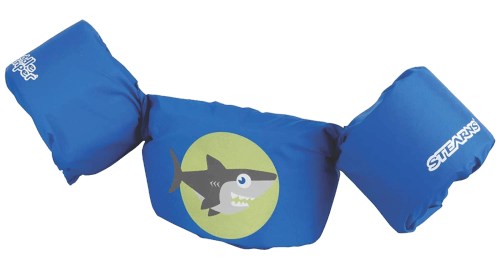 For older toddlers around 30-50lbs, the Stearns Puddle Jumper (click here to see more reviews) are awesome for teaching kids to swim.
It's a type III device, meaning it's not fit for use as an actual life jacket, but it's perfect for teaching them to swim. Remember those water wings we used to wear as kids? This is basically the upgraded and modern version of it.
If you've ever put water wings on your child, you know how easy it is for them to tear them off themselves. The Puddle Jumper is impossible for the child to take off themselves, so it's a lot safer in this regard!
It's meant for kids about 3-6 years old, but some people get away with it for their kids as young as 2.
It's a lot more comfortable compared to the Type II jackets, but again, it's more for general water safety and not for use on boats. It won't flip the child onto their back if they fall in the water, and it doesn't have the grab harness.
It's a pretty good option, especially for teaching kids to swim!
In summary.
Life jackets are a great way to keep your child safe around water, whether you're at the beach, a pool, or even on a boat.
However, it's extremely important that the jacket is safe, proper-fitting and in good condition.
Also, a life jacket is no replacement for adult supervision. Please always make sure to pay attention to your child at all times.
If you have any questions or concerns about this guide, please let me know in the comments section below!