Yeah. I don't blame you for not being all that excited about it.
Buying those teeny tiny clothes is fun, and I loved looking for things like car seats and strollers, but the crib mattress itself? Not that fun.
The fact is, though, that the mattress is one of the most important purchases you'll make when putting together your nursery.
Infants spend more than 16 hours a day in their crib, so safety and comfort is a huge concern. Not all crib mattresses are safe, and there is some misleading information out there.
Luckily for you, I've put together a guide and list of my favorite (the best!) crib mattresses. I sure wish I had something like this when I was shopping for one.
My Top 5 Favorite Crib Mattresses
#1: Colgate Eco Classica III (My Favorite!)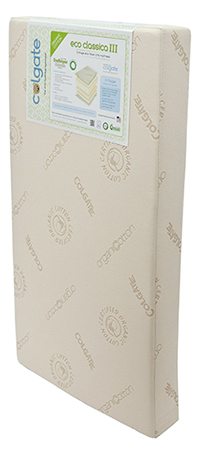 Colgate? Don't they make toothpaste?
Nope, this is an entirely separate company with the same name. Confusing, right?
Once we get past that silliness, the Colgate Eco Classica III (click here to check price on Amazon) is one of the best crib mattresses out there and my personal favorite.
It's a dual-sided mattress, with one of the sides being firmer than the other so you can use it in a toddler bed once they outgrow their crib (the sides are clearly marked, so there's no confusion). Bonus!
The infant side is nicely firm, and shouldn't sink in or anything like that.
It weighs about 10 pounds, which is isn't bad at all for a crib mattress, especially one that's dual-use. I found it easy enough to switch up the crib sheets on my own, and that's by using one hand. And I'm not exactly a super-mama.
The cover is made of 100% certified organic cotton, and the inner part of the mattress is made of plant-based foam. The filling is also Greenguard Gold and CertiPUR-US certified, meaning it is free of various terrible chemicals and won't have any issues with toxic off-gassing.
It's very lightweight, making sheet changes a breeze; you can lift it with a single hand if you need to.
You'll notice that this mattress has absolutely no smell, which is something you find with a lot of mattresses. While it's really not a harmful thing, it does tend to give a bad impression and makes you feel uncomfortable with it.
No problem with that here. If you notice a slight plastic smell when you first unwrap it, it's due to the plastic packaging. It goes away quickly!
Note: You may want to purchase a waterproof cover for it, because although it is supposed to be waterproof, some soaking can happen.
Lightweight, eco-friendly, safe and comfy. What more can you ask for? I love it! If you ask me, this is the safest crib mattress around.
#2: Moonlight Slumber Little Dreamer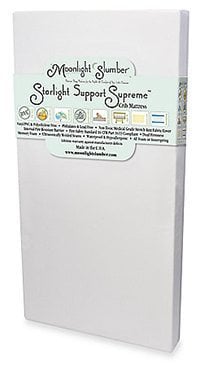 Like my #1 choice, the Moonlight Slumber Little Dreamer (click here to check price on Amazon) is also a dual-firmness foam mattress, so you can use it in both a crib and a toddler bed.
It's also a very affordable
However, Moonlight Slumber has gone the extra distance in making a mattress that is vinyl, polyethylene, PVC and phthalates free.
Since it's a foam mattress, it's very light and easy to change the sheets, just like any good crib mattress should be.
Like our #1 pick, this one is also CertiPUR-US and Greenguard Gold certified.The foam is CentiPUR certified, meaning it's free of toxic chemicals in both the foam and exterior, and they used no flame-retardant chemicals in its construction.
What I liked about the Little Dreamer is that the stitching is on the side of the mattress as opposed to around the top; this means that if something gets spilled on it, it's not going to get trapped around the edges, and it's not going to grow mold.
This stitching method is probably something you wouldn't even think of when looking for a mattress, but I love it. The exterior is water-resistant and easy to wipe clean with a wet rag, so no complaints there.
The mattress itself weighs about 10.5 pounds, which makes it about average in weight. However, since the corners are square, it makes it a lot easier to change sheets and clean it than other mattresses that have rounded corners.
Moonlight Slumber is known to have excellent customer service, so if you happen to have any trouble with it, they should fix up (for free!)
While it's not a budget mattress, it's excellent, and isn't that what we all want? I love it!
#3: Sealy Soybean Foam-Core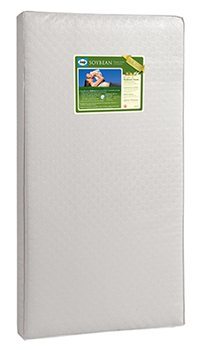 A healthy, non-toxic and earth-friendly mattress, the Sealy Soybean Foam-Core (click here to check price on Amazon) uses no flame-retardant chemicals, making it extra safe to use.
Since your baby is going to be spending so much of their life on their mattress, why not get one that's non-toxic and natural? The mattress itself is firm but breathable, which is great in the summer months.
The cover is waterproof and stain-resistant, so you can wipe it down easily without the need of a mattress pee pad. It's also one of the lightest mattresses at only 8 pounds, so it's easy to carry and change the sheets (which is awesome, trust me!).
A lot of moms love it because innerspring mattresses are cumbersome and hard to change sheets with one person, but not so with this one.
The mattress measures 51.6 x 27.2 x 5 inches, so it should fit any standard-sized crib. No problems there.
What I didn't like, and where I have to subtract some points, is that the name of the mattress is misleading. It might make you believe that it's made of 100% soybean foam, but if you look at the label, the foam is 73% polyurethane, meaning the composition is likely less than 25% soy foam. Since polyurethane might be something you want to avoid, this is something to be aware of.
Some parents also reported that the mattress started to sink in over time as they used it. I'm not exactly sure why this is, because these reports were few and far between, but it's something to think about.
Despite all of this, it still maintains an average 4.6 / 5.0 star rating and over 300 reviews on Amazon and remains one of their best-selling mattresses.
#4: Naturepedic No Compromise (My 100% Organic Pick!)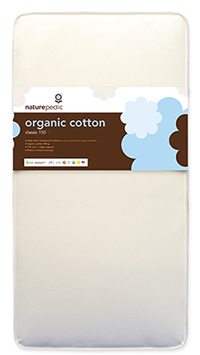 The most expensive option on my list, but the only one that can be labeled truly "organic", the Naturepedic No Compromise (click here to check price on Amazon) is an all-round excellent crib mattress.
Both the interior and exterior are made of 100% organic materials, and it uses absolutely no chemical flame retardants.
Like many of the mattresses on my list, this is a dual-firmness mattress, meaning it can be used both in a crib and a toddler bed. The outside layer is made of food-grade polyethylene to make it waterproof, and it doesn't contain any nasty chemicals.
Besides all of the great natural properties, it's just an excellent mattress. If you have any problems with it, Naturepedic is known to have excellent customer service, so you'd get it figured out in a jiffy anyway.
The only downside? It's not cheap. But then again, you get what you pay for, and since it can be used in a toddler bed, so you'll get a lot of use out of it. This is an excellent mattress, 100% organic, and trustworthy and safe to use. If you can afford to fit it into your budget, you'll be happy with it.
#5: Safety 1st Heavenly Dreams (My Budget Pick!)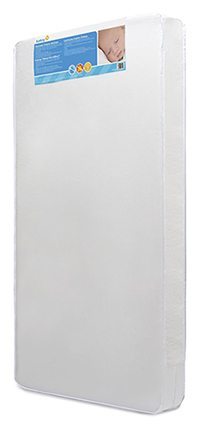 While not my favorite, the Safety 1st Heavenly Dreams (click here to check price on Amazon) is my choice for the best budget crib mattress, and it's an incredible deal.
It's a comfortable but firm mattress, and the vinyl covering makes it resistant to stains and smells. The cover is waterproof and has a zip in case you want to wash it or change it out.
It should fit all standard-sized cribs and beds, and measures 52.5 x 27.5 x 5.5 inches so you can check to make sure that it will fit yours.
This is a foam crib mattress, and it retains its shape well, even after years of usage (it works great in a converted crib-to-toddler-bed, too).
The good thing about the lack of springs is that it discourages kids from jumping on it (hey, it happens!) It's also pretty light, which makes it easy to wash and change the sheets.
The downside is that it uses the typical polyurethane foam that you may want to avoid.
All of my other choices avoid this, so you should take this into consideration. If you're going for a good one and can afford it, any of the others on my list might be a better pick. However, this is by no means an awful mattress; it's very good for the low price.
The Importance of a Good Crib Mattress
Having a good crib mattress is very important for two main reasons: it makes the crib much comfier for your baby, and most importantly, it provides a good support for their delicate growing bones.
The National Institute of Child Health & Human Development reports that using a hard mattress, as opposed to a soft mattress, is one of the key factors in helping prevent SIDS (Sudden Infant Death Syndrome). It's important to use a specialized baby crib mattress; a mattress that is meant for adults or older children will likely not be the correct size for a crib, nor will it be firm enough.
Babies will spend up to 70% of their life on the crib mattress. When you think about that, it's easy to see why it's important to get a good baby mattress.
Why You Should NOT Use a Memory Foam Mattress
First of all, let's make a distinction between foam and memory foam.
Regular polyurethane (or foam) is a very common material used in the construction of mattresses and has been used for nearly a century.
However, recent advances in technology have given us materials like memory foam. Typically, memory foam is made of the same polyurethane but with added chemicals that increase its viscosity and density. It's sometimes referred to as viscoelastic or low-resilience polyurethane foam (LRPu).
The end result is that memory foam will change shape and form to the head or body, which can be great for comfort for a fully grown adult like yourself. But there's a BIG problem when it comes to the use of memory foam for infants.
In 2016, the AAP (American Academy of Pediatrics) put out a report on SIDS (Sudden Infant Death Syndrome) and concluded that a firm sleeping surface is key in reducing the risk of sleep-related infant deaths.
In this report, they state that they do not condone the use of memory foam mattresses because they can form a pocket or indentation that can lead to suffocation if the child rolls face-first into it.
Approximately 3500 infants die each year in the US alone due to SIDS and other sleep-related deaths so this is no joke. Please don't use a memory foam mattress (or topper, for that matter)!
Regular Foam Mattresses vs. Innerspring Mattresses
There are two main types of crib mattresses: foam & innerspring. When it comes to purchasing a good crib mattress, many parents have the same question: "Which is better: foam or innerspring?"
The fact of the matter is that there is no "best" type of crib mattress — one is not necessarily better than the other. There are both great foam and innerspring mattresses and not-so-great foam and innerspring mattresses. The main thing you should be concerned about is whether the mattress is quality or not.
Although the best foam mattresses are just as good as the best innerspring mattresses, you should know about the few key differences between the two.
The Scoop on Foam Crib Mattresses
If you're familiar with foam crib mattresses from the 80?s or earlier, you might remember low-quality foam which would break down and become brittle over time.
You might be glad to know that this is no longer the case; there have been many advancements over the years, and a properly-manufactured modern foam mattress should not have this issue. However, it's important not to skimp out and get a cheap foam mattress from an unknown manufacturer.
While foam mattresses that use foam that is specifically designed for mattresses are fine, some low-cost foam mattresses use cheap packing foam to minimize costs, which will lead to deterioration over time.
Foam crib mattresses are generally less expensive than innerspring mattresses, which can sometimes be a factor when it comes to deciding on any baby product. Foam mattresses are also, in general, lighter than innerspring mattresses — about 8-10 pounds for the heaviest foam mattress, or close to 25 pounds for the heaviest innerspring mattress.
If you're going to buy a foam crib mattress, there are a few things to look out for:
The denser, the better: In general, the heavier a foam mattress, the more dense and firm it is. And this is the most important aspect of a foam mattress! The more firm a crib mattress is, the better. Unfortunately, not all mattress manufacturers list this in the product information. If you're testing in-store, give them the "squeeze test": press your hands together on each side of the mattress and see how much you can squeeze it. A good, dense mattress won't let you push it very far.
The weight: While a heavy foam mattress is better than a lighter one, don't forget that you have to lift it to change the crib sheets. You wouldn't want a mattress that is too heavy & cumbersome, so it's probably best to strike a balance between weight and the ease-of-use for parents. Fortunately, most foam mattresses are much lighter than innerspring ones.
The Scoop on Innerspring Crib Mattresses
Innerspring mattresses are the type of mattress you are probably used to sleeping on yourself. They contain springs or coils and are a lot more complex than foam mattresses. These mattresses are usually more expensive and heavier than foam mattresses
One of the biggest misconceptions about innerspring mattresses is that the more coils it has, the better. This has been so ingrained in people's minds that even other websites will tell you that this is most important.
While the number of coils does somewhat reflect on the density of the mattress, many other factors come into play as well.
Generally, the more metal in an innerspring mattress, the better. According to Consumer Reports, you should look for a crib mattress with around 135-150 coils, with a gauge of 15.5 or lower.
Remember that an innerspring mattress is typically more expensive than a foam mattress. On top of that, they tend to be a lot heavier.
If you're going to purchase an innerspring crib mattress, here are a few things to keep in mind:
More expensive is not always better: Innerspring mattresses can be pretty expensive on the high end. The most expensive mattress is not always the best, so just keep that in mind.
Coils: Look for a mattress with around 135-150 coils with a gauge of 15.5 or lower.
Look for border rods: These are the rods that go around the perimeter of the mattress at the top and bottom, giving it much more stability, and keeping it from sagging when baby walks near the edge. As far as I'm concerned, these are a must-have.
Foam vs. Innerspring: The Conclusion
Either type of mattress should be acceptable for most parents.
Foam mattresses are usually a lot lighter: about 7-8 pounds for even the densest of foam, whereas innerspring mattresses tend to be about 15-23 pounds. That's a pretty huge difference!
If you're going to be changing the sheets on your own a lot, you might want to consider a foam mattress. My favorite pick, the Colgate Eco Classica III, weighs about 10 pounds, making it awesome and easy to change the sheets, even with just one hand.
Another big benefit to me (and something you'll be thankful for later) is that foam mattresses are a lot less springy than their innerspring counterparts. This means that kids will be a lot less likely to use them as a trampoline as they get older. Trust me; this is a pretty big deal!
For most parents, a foam mattress will be just fine. They are typically less expensive, lighter, and all-around easier to use. The best foam mattress will be just as good as the best innerspring mattress, so I don't think there is any important reason to go with an innerspring over a foam mattress.
What About Organic Mattresses?
A lot of parents are choosing to go "green" with their baby products, and there are a few organic baby mattresses to choose from. Unfortunately, the whole green baby product marketplace is confusing, and some manufacturers deliberately mislead consumers.
We've written a guide to choosing organic crib mattresses that you may want to take a look at because not all mattresses labeled "organic" are safe!
Shopping Secrets: What To Look For in a Crib Mattress
Firm. Although as an adult you might want to prioritize comfort over firmness, when it comes to buying a baby mattress, firmness is key for safety.
Lightweight design. This is also extremely important, because the heavier it is, the more awkward it's going to be to pick up and move around. Trust us, this is often overlooked and you're going to hate being stuck with a heavy, bulky mattress.
Waterproof. The mattress should also be waterproof, or if not, you should use a waterproof mattress protector on it. This is because pee accidents are going to happen, which can lead to toxic mold forming. Not only is that gross, but it can have negative health effects.
Easy-to-clean. Various bodily fluids and dust/dirt are going to end up on the mattress whether you like it or not, so having one that's easy to clean will make for much less of a pain in the neck for you.
Noiseless cover. Some mattresses have a cover that makes an audible crinkle noise when your little one moves around on it. In order to eliminate the risk of waking them up needlessly, we won't recommend a mattress that has a noisy cover.
Certified materials. There are several independent agencies that certify mattresses for safety in different ways. For example, Greenguard Gold certifies for low VOCs, also known as gasses that can have negative health effects. CertiPUR-US certification means that polyurethane foam mattresses are made without the use of formaldehyde, lead, ozone depleters or specific dangerous flame retardants and phthalates.
Good warranty and customer service. Issues can arise with any mattress, and having dependable customer service and a good warranty can really help when you have a problem. However, on the other hand, a long warranty doesn't necessarily mean that the product is a good product.
The right price. There is quite a range in prices for baby mattresses. On the very low end you will most likely have problems with things like leakage, fit and material quality. On the flip side, an expensive mattress isn't necessarily good just because it costs more. As is the case with most baby products, an expensive price is just meant to convince the parent that the product is superior and safer when it probably isn't any better than a cheaper model.
But Beware: Don't Buy a Used Crib Mattress
One thing I would stress about almost any type of baby product is this: never buy used or accept a hand-me-down mattress.
While you might be okay if you know exactly what you're looking for, some studies have linked the use of old crib mattresses with an increased risk of SIDS.
A study published in 2002 by the British Medical Journal concluded that there was a "…valid statistical associated between sudden infant death syndrome and the use of an infant mattress previously used by another child…" and I would therefore never recommend letting your baby sleep on a used crib mattress.
Other reasons not to purchase a used crib mattress:
They're unsanitary. Crib mattresses are magnets for poop and pee, and you have no idea how well the previous owners took care of it. Moisture can lead to mold, bacteria and fungi growth inside of the mattress too. Pretty icky stuff.
They can be full of dust mites (or even bed bugs). An improperly cleaned mattress can be a dust mite or bedbug gateway into your home.
Crib mattresses don't last forever. A used mattress may not have a lot of life left in it. If it's starting to sag or lose its support, it might not be safe to use anymore. A sagging mattress is a definite SIDS risk.
It's just not worth using a hand-me-down mattress. If you have an older mattress than you used for another child and you absolutely know that it was well taken care of and stored in a cool and dry place, then by all means use it.
Frequently Asked Questions
What's the standard crib mattress size?
The federal government of the United States mandates that crib mattresses must be a minimum of 27 1/4″ x 51 5/8″ with a thickness not exceeding 6 inches.
This size should have a snug and safe fit in all standard sized cribs.
However, to make sure that it's safe, employ the "2 finger" test. If you can fit more than 2 fingertips between the mattress and the wall of the crib, there is too much space to be safe and you shouldn't be using that crib and mattress.
Are all crib mattresses safe?
There are safety standards in place for all mattresses sold in the USA, and that, of course, includes crib mattresses. They have to pass rigorous tests, which include cigarette-ignition and open-flame tests.
As we mentioned earlier, memory foam mattresses are not recommended, nor are those that are cheaply made or older and have a questionable past.
Most companies use chemical flame-retardants, but that's not strictly necessary. The use of certain fibers, such as wool, rayon, and acrylics, are naturally flame-retardant enough to pass the standards without the need for chemicals.
If you're concerned about these chemicals, you could go the organic route and get one that doesn't use them. However, you need to be careful, because the term "organic" is not federally regulated, and nothing is stopping a company from lying about their organic status.
Be sure to read our guide on organic mattresses if you want to go this route!

Safety and Maintenance of Your Crib Mattress
No matter what crib mattress you end up getting, there are some universal tips that everyone should know for proper care and use of their mattress.
Allow the mattress to air out before use. When you get the new mattress, be sure to open up the packaging and let it air out in a well-ventilated room for at least a couple of days before you use it.
Always have your little one sleep on their back. To reduce the risk of sleep-related deaths, always have your little one sleep on their back. Read our article on this for more info.
Make sure the mattress passes the "two finger" test. All crib mattresses should have a snug fit. Try putting 2 fingers between the mattress and the wall of the crib. If it's too snug to fit, then the mattress is the right size. However, if there is more space then that, the mattress isn't safe to use.
Use a fitted sheet and possibly a waterproof cover over the mattress. All mattresses should have a fitted crib sheet over them, and if the mattress you have isn't waterproof, it's a very good idea to use a waterproof mattress pad on top to protect it from diaper leaks and other messes that are sure to arise.
Nothing should be in the crib with your little one. This includes toys, bumpers or loose blankets, all of which can be a suffocation or strangulation hazard.
Don't Forget The Crib!
If you don't have a crib yet, be sure to read my in-depth guide on baby cribs, too! I also have written a guide on crib sheets that you might want to take a look at.