If you're interested in co-sleeping, a bassinet is the perfect option. They're tiny, typically portable, and the perfect little bed for a newborn baby.
If you're interested in one, this is a complete guide on everything you might want to know about buying a bassinet!
Our recommendation: The BABYBJORN Cradle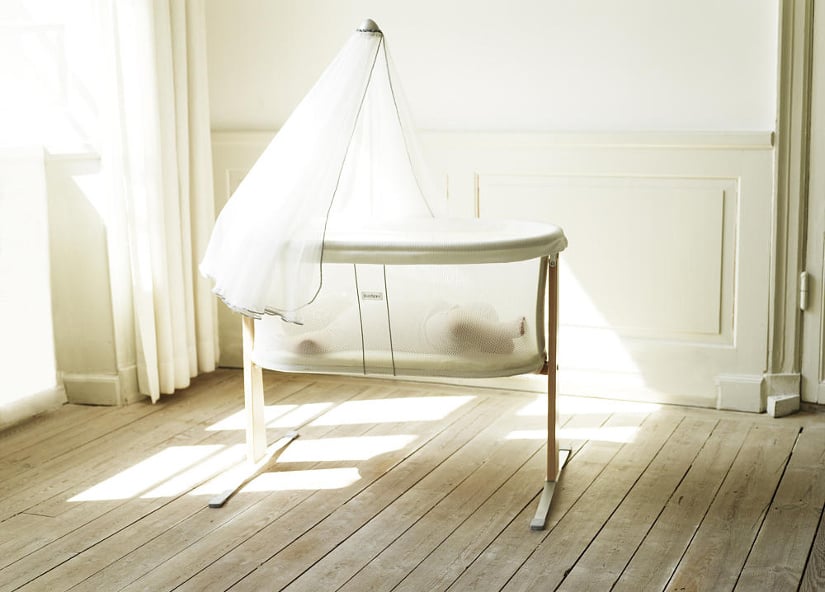 When it comes to bassinets, there really is none greater than the
Babybjorn
(
click here to check price on Amazon.
)
I haven't come across another that fits virtually every need you might have in a bassinet: it's safe, sturdy, lightweight, easy to disassemble and reassamble, made of safe materials, and is high quality.
Here's my mini-review of it!
Portability.
At 13lbs in its assembled state, it's very easy to move the Babybjorn around from room to room if necessary. This is one of the lighest bassinets you'll find.
Since it's so easy to take apart and put back together in a few minutes, it's also a great option for those that spend nights away from home and need to take their bassinet with them. You can make it collapse and flatten out simply by removing 2 screws.
It's super easy to assemble and set up. You can do it in less than 5 minutes, and you don't even need help to do it. Although if you have a set of helping hands, it will be a little easier.
Safety
The most important part, and Babybjorn really came through here. This is one of the safest bassinets on the market, and here's why:
Mesh sides: Every side is 100% mesh, which means it's breathable and not a smothering hazard if your little one's face ends up smushed against the side of it.
Good mattress with no gaps: The mattress is one inch thick and there is very little gab between it and the sides of the bassinet.
No harmful substances used in manufacturing. It means the Oeko-Tex Standard 100 Class certification, which means that none of the materials that come into contact with baby contain harmful chemicals or flame retardants.
Nice wide base and stable. The design uses a wide, stable base and there is very little chance it could ever tip over.
MDF board.
There is one controversial point about this cradle that I need to bring up: it uses MDF board.
MDF board is simply a type of plywood that is manufactured to be much stronger and stable than regular plywood.
The problem with MDF board is that it's known to emit fromaldehyde. Yikes.
Babybjorn says that their MDF board is made with the most restricted level of MDF board and should not cause any kind of health concern. Still, it's something you should know about.
Quality.
Just looking at the assembled cradle you can tell that it's high quality.
The materials they use are very good, and the mesh is thick and
The price.
The cost of this cradle might be a bit steep for some. At around $350 retail price, it's a considerable amount of money to spend on something that your little one is only going to use for a maximum of 6 months.
However, if you're aiming for an excellent bassinet that fits every purpose you could possibly have for one, this is likely the best one you're going to come across.
Canopy option.
Babybjorn does offer an addon canopy which is sold separately. It's unfortunate that it doesn't come included with the base cradle, but it is what it is. Click here to see it.
Why you might want to use a bassinet before a crib.
A bassinet might not be for you.
But there are a few reasons that you might want want one instead of a crib:
#1. They're great for co-sleeping.
Co-sleeping is the practice of sleeping in the same room as your child. The benefits of co-sleeping are outside of the scope of this guide, but the American Academy of Pediatrics now recommends the practice. Why? Because it's thought to reduce the risk of SIDS.
Since bassinets are tiny and usually portable, they're a perfect option for co-sleeping.
#2. They can make late-night feedings and diaper changes a lot easier.
This is for a few reasons. First of all, your little one will be in the same room as you, so there's no wandering around the house in the middle of the night.
Second of all, bassinets are usually lower to the ground than cribs, so it's easy to get your little one in and out of it for feedings and changes.
#3: They're portable.
If your family is going to be staying away from home – say, at a hotel or grandma's house – it's not exactly feasible to bring your crib along with you.
But bassinets are usually pretty easy to bring along with you; they're compact and lightweight, and some of them are even meant to be portable.
If you tend to sleep away from home often, a bassinet might just be up your alley.
#4: Gives peace of mind.
When your little one is sleeping in the room with you, you'll have the peace of mind that everything is okay with them at all times.
Of course, there are always baby monitors, but nothing beats having your little one right next to you.

Aaaand of course, there are disadvantages.
It's not all rainbows and sunshine with a bassinet. There are a few downsides that you should probably know about.
#1. Your child is going to outgrow it quickly.
Once your child is rolling around and sitting up on her own (around 3-6 months of age) they should no longer be sleeping in a bassinet for safety reasons.
That means you're not getting a lot of use out of something that might cost you a fair chunk of your budget.
#2. Babies can be noisy.
Co-sleeping might just not be for you. A lot of parents are simply unable to sleep with the sounds their little noise maker… I mean baby emits.

Our Tips: Choosing a Baby Bassinet
Safety certification.
Bassinet manufacturers can comply with ASTM safety standards, which will be indicated by a JPMA seal. While this doesn't guarantee that the bassinet is safe, it does mean that there is a certain standard it meets.
Buy new, not used.
I know it's always nice to save some money, and maybe your family has an old heirloom bassinet that they'd love to pass down to you.
Unfortunately, this is never recommended.
Baby products are often recalled because of safety issues, and on top of that, safety standards change all the time.
Even if the bassinet isn't recalled, there's a good chance it's missing the manual or parts.
Thin and firm mattress.
Don't be put off by a mattress that seems hard and stiff.
They're supposed to be this way. This is for safety reasons; a mattress that gives in can potentially block airways and is known to be a trigger for SIDS.
Mesh walls.
A good bassinet should have mesh walls to allow your little one to breath if their face ends up against the side of it.
Size and portability.
Depending on your intended use of the bassinet, the size, weight and portability might be important.
If you're going to use the bassinet as a portable sleeper around the house, it's going to be important that it's light and easy to carry. This also goes for if you're going to take it out of the house.
If you're going to set the bassinet up in your bedroom, make sure you pick one that's small enough to fit comfortably beside your bed.

Features You Might Want in a Bassinet
While some bassinets are basic, some of the more expensive models have features and functionality that you might be interested in. When hunting for a bassinet, here are some of the features and options you might come across, and some that you should consider.
Rocking mechanism.
A rocking motion can be very soothing to a baby, especially when they are trying to sleep. Some bassinets have a rocking mechanism that will gently rock your baby back and forth, which can be nice.
If you decide to purchase a baby bassinet with this feature, make sure that you never leave them unattended while it's in the rocking motion.
Sounds and lights.
Many bassinets come with built-in functionality to play music, make sounds, light up or vibrate.
The thing to remember with these features is that they typically run on batteries, and because of this, they might not last too long before needing to switch them out.
Some babies are more disturbed by these noises and lights than soothed, so keep that in mind as well.
And let's not forget that if it plays music, you might be driven to the brink of insansity after having to hear the same music for the 200th time.
Built-in toys.
Mobiles are a wonderful addition to any baby crib or bassinet; they provide visual stimulation and entertainment and are a classic baby item.
If you think you want a mobile for your bassinet, it's best to purchase one that comes with one that is specialized for it rather than an aftermarket one, because this is safer.
Canopy.
Some bassinets have an included built-in canopy to block out light.
Since you'll probably be using the bassinet in your bedroom, this can be a great thing to have. Let's say you want to read before bed; that requires having the bedroom light on, which is obviously not a great thing if you don't want to disturb your sleeping little one.
Storage.
If lack of storage is a problem for you, some bassinets do have built-in storage for things like diapers, changes of clothes, wipes and toys.

Safety Tips For Using a Bassinet
Once you have the bassinet in your home and are ready for your baby to sleep in it, you should understand a few safety precautions, first.
Make sure that it's properly assembled. Even the safest bassinet is unsafe if it's not properly installed, so make sure that you thoroughly read and follow the manufacturer's instructions when assembling it. If there are any screws or pieces left over at the end, it's not safe!
Use only the mattress or padding provided by the bassinet manufacturer. It is specially-fitted for the the bassinet so that there are no gaps between it and the walls of the bassinet. Always use the appropriate fitted sheets, too; never use a regular sheet or anything else as a replacement, as this can be a suffocation hazard.
On that note, never leave anything in a bassinet that could be a suffocation hazard, including: pillows, stuffed animals, extra bedding/padding, etc. While you might think these things are comforting, they pose a definite hazard. Instead, consider putting your baby in a swaddle sack or other wearable blanket.
Keep a mobile bassinet's wheels locked at all times. If you move the bassinet from one place to another, double check that you put the locking mechanism into place to prevent it from rolling or being pushed around.
Prevent strings or cords from hanging into the bassinet. Any string or cord from a toy, curtain, mobile or other item that hangs into the bassinet is a definite strangulation hazard. Make sure that anything of this sort is out of reach of your baby while he or she is in the bassinet.
Always place your baby on his or her back. SIDS (sudden infant death syndrome) is known to occur in infants that sleep on their stomach. You should always lay your baby on their back, never on their stomach or side, where they could easily roll over onto their stomach.
Only put one child in the bassinet at a time. They're only designed for one baby, and trying to put more than one in it is a huge safety hazard.
Never try to move the bassinet with your child in it. If you need to move it, take your child out first. When you finish moving it, make sure you've locked the wheels in place again.