Teething typically starts around 4-6 months of age, and there's no mistaking it.
You'll know, because they'll put literally anything in their mouth in an attempt to get some relief…
…even if that includes their own fingers or anything in arms reach.
Teether toys are a great way to keep their tiny mouths busy, but not all teethers are safe to use. In fact, some have awful, harmful chemicals you'd want nowhere near your little one's mouth.
So we put together this guide with 17 safe, non-toxic teethers that you can rely on.
All of these teethers:
Contain no toxic chemicals, only natural materials.
Are easy for baby to hold and use.
Are highly-rated by parents.
Are inexpensive and can fit in any budget.
They're all excellent options that baby will love!
Our list of 17 wonderful teething toys.
Sophie The Giraffe So Pure
Why we love it:
Coming from a leader in the teething industry, this charming giraffe features two attached rings with differing textures to suite baby's preferences.
The fact that it's made with 100% natural rubber and a seamless, no-holes design means it is safe for your precious infant. The softer design is especially geared toward advanced teethers, but all babies can enjoy it. A must-have for your diaper bag!
Comotomo Silicone Baby Teether
Why we love it:
Saving fingers, one teether at a time! If your infant loves to chomp on their fingers (or yours), this option will be a must-have for her.
It's easy to hold with endless biting options that mimic fingers and features a unique non-choking design. Not only is it BPA-, PVC-, and phthalate-free, but this medical-grade silicone toy is also microwave- and dishwasher-safe. So sanitize away!
Nuby Teethe-eez Teether
Why we love it:
With its hygienic carrying case, this fish-shaped teether can be thrown in a diaper bag without worrying about it collecting germs!
And its super soft silicone construction means you can wash it in the dishwasher. Multiple textured surfaces, including bristles, will gentle soothe and stimulate your little one's gums and may even encourage new teeth to cut through. Perfectly sized for the littlest of hands!


Manhattan Toy Skwish
Why we love it:
It's a toy, rattle, and teether in one! Comprised of wooden dowels, elastic ties, and beads that slide back and forth, this easy-to-grab creation can be "skwished" down and will return to its original shape on its own. The un-dyed finish is perfect for families who are cautious in regards to chemicals.
A great teether—and toy—that your infant can enjoy through many developmental stages!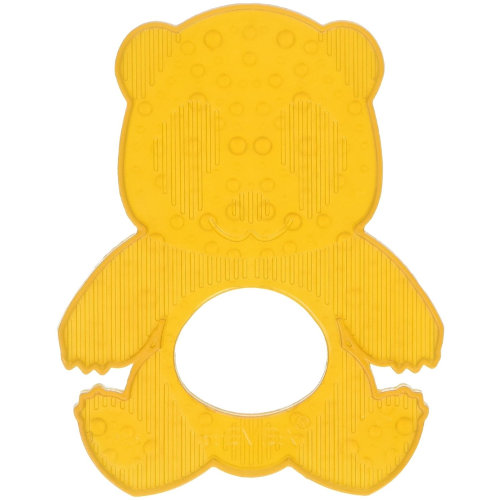 Hevea Panda Teether
Why we love it:
Sometimes simple is better! Malleable and multi-textured, this charming panda-shaped teether is made of 100% natural rubber and its one-piece, uncomplicated design doesn't have any holes or cracks to trap bacteria.
Eco-conscious moms will love that it's free from phthalates, PVC, evatane, silicone, and BPA. A cute and practical choice for your precious baby!
Maple Landmark Teether Pair
Why we love it:
Wood was the teether of choice before plastic, rubber, or silicone was invented!
Crafted in Vermont from sustainably harvested rock maple, this design is not only sleek and modern, it's also durable and anti-microbial. Sanded down until satin smooth, this set of two rings forgoes chemical coatings and finishes to keep your baby as safe as possible.
Infantino Go GaGa Squeeze and Teethe Toy
Why we love it:
Soft and flexible, this cow teether is "udderly" irresistible! Squeaking when squeezed, this natural rubber toy is great for distracting baby from their discomfort—or from getting into your dog's toys.
Multiple malleable edges make great surfaces to suite your baby's particular preference each day. And when your infant leaves the teething stage behind, it becomes a great toy to spark imaginative play.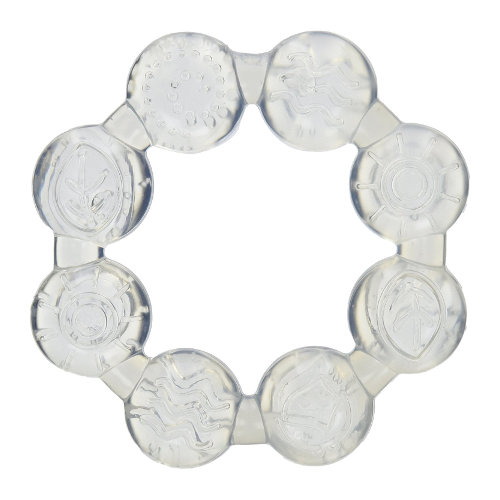 Green Sprouts Ring Cool Teether
Why we love it:
For babies who don't enjoy a lot of texture but prefer a cooling effect—look no further than this teething ring! Filled with sterilized water, it can be chilled in the refrigerator to help soothe your infant's gums and reduce inflammation.
In addition to avoiding BPA, PVC, and phthalates, this non-toxic design is also free of nitrosamine for those parents trying to steer clear of it in their children's toys.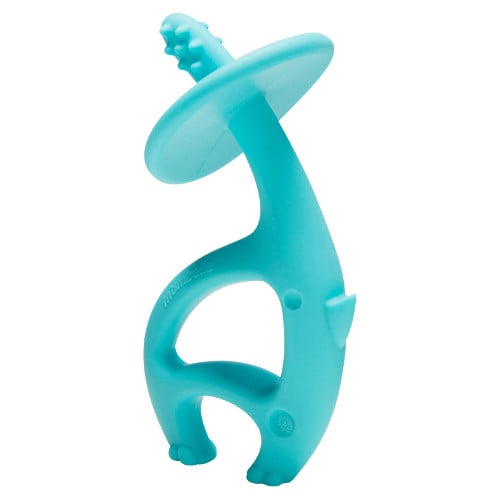 Safety 1st Mombella Elephant
Why we love it:
Besides being super fun to look at, this modern-looking teether features an ingenious non-choking design that is easy for little hands to grasp and maneuver.
Plus, the raised nubs at the top are great for vigorous gumming and can double as an introductory toothbrush for emerging teeth. Developed with the help of a pediatric specialist, it's made of 100% silicone and is dishwasher and freezer safe.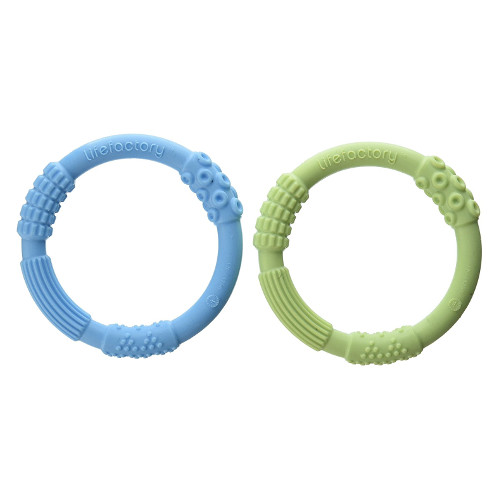 Lifefactory Multi-Sensory Teethers
Why we love it:
Whether refrigerated, frozen, or room temperature, this set of two silicone rings offers multiple textures of ridges and nubs to satisfy any baby.
When they're not in use, moms can wear these handy gum soothers as bracelets so that she can be ready at a moment's notice! Designed by a pediatric feeding specialist and made in the U.S.A. they are dishwasher-safe and are free of phthalates, PVC, BPA, BPS, and latex.
Marlarkey Kids Munch Mitt
Why we love it:
A "handy" solution to the problem of needing to pick up the teether whenever your baby drops it (which is all the time)!
Designed for 3- to 7-month-olds, this mom-invented glove features a textured silicone portion that soothes baby's gums while preventing her from chewing and chapping her own skin. It even makes a sensory-stimulating crinkle noise while she chews!
Bright Starts Snuggle Teether
Why we love it:
It's a stuffed animal! No, it's a teether! Wait . . . it's both!
These cute and cuddly characters feature teethable feet for comforting and soothing your little one—and they're crinkle bellies will grab baby's attention and hopefully distract them from their discomfort. We love that there is a loop on the back so that you can attach it to a stroller, carseat, or diaper bag for easy access when the situation arises.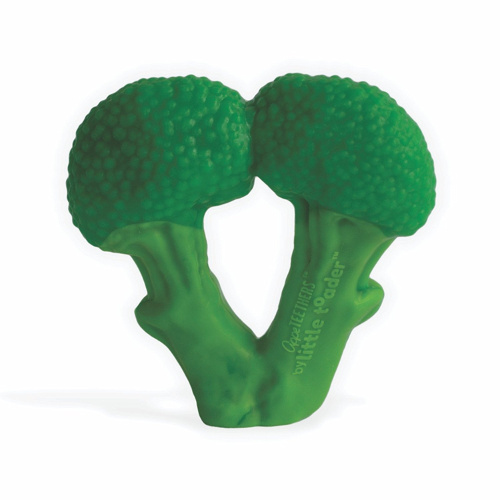 Little Toader Broccoli Bites Teether
Why we love it:
If your baby enjoys soothing his gums with this broccoli teether, maybe he'll take a liking to the real stuff when he starts solids!
While there's no way to guarantee that will happen, it's worth a shot, right? Plus, natural mamas will appreciate giving this teether to their little ones knowing it's made of silicone; features food-safe coloring; and is free of BPA, lead, PVC, and phthalates. So while it's not quite as healthy as giving your child an actual vegetable, it's certainly not bad for them.
Grimm's Natural Wood European Teether
Why we love it:
Simple, sleek, and natural, this teether is a "hoot"! Handcrafted in Germany, this alder hardwood creation is sanded ultra smooth for baby's utmost comfort and finished with a non-toxic plant-based oil.
A durable option for the eons of drool and gumming while being a more environmentally friendly solution. We think it would look extra cute attached to a baby shower gift!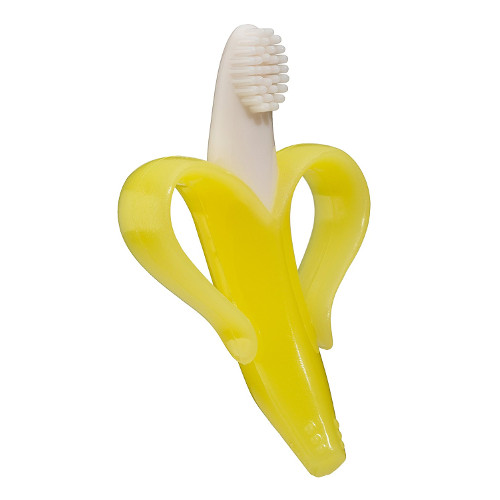 Baby Banana Infant Training Toothbrush
Why we love it:
Mamas will go bananas for this teether that encourages infants to develop healthy oral habits early and take gum (and teeth) brushing into their own hands—literally!
Designed for 3- to 12-month-olds, this bendable silicone creation features massaging nub-like bristles for soothing gums and brushing any emerging teeth. Let's not forget that its "a-peel-ing" handles double as a shield to prevent choking.
SweeTooth Ice Cream Teether
Why we love it:
Have yourself a chuckle every time you catch sight of your baby gnawing on this teether! Its unique shape offers different edges and widths to satisfy your little one while the softer "ice cream" and firmer "cone" provide different resistances.
Pop it in the dishwasher or the freezer when you need to since it's made of silicone. And here's a tip for getting even more of your money's worth: when your little one is past the teething stage, add it to their play food collection.
ZoLi Chubby Gummy Gum Massager
Why we love it:
While it's not quite a magic wand, this teether's creative design is great for just-starting-to-drool babies as well as toddlers who are trying to reach their emerging molars without choking or gagging.
While constructed with unique nubs for excessive gnawing, it also introduces infants to the concept of brushing their teeth without actually being a toothbrush. An added bonus: it comes in a set of two!
What to avoid: teethers made of plastic.
Plastic can contain a number of chemicals known to be dangerous: BPA (Bisphenol-A), PVC and phthalates.
BPA is not 100% sure to be dangerous yet, but in 2013 the FDA banned it in baby products. It's thought to be an endocrine disruptor. Since the ban, companies have moved to BPS – Bisphenol-S as a way of circumventing the law.
PVC or polyvinyl chloride is known to be a very toxic chemical that you want nowhere near your little one's mouth.
Phthalates are chemicals that are added to plastics to make them more flexible and pliable. Since these chemicals don't bond to plastic, they can leech out over time as your child sucks on the teether.
According to a 2012 study, researchers tested the leeching of chemicals into milk and formula.
After 6 hours of exposure at 40 degrees celsius, they detected zero chemicals had leached into either milk or formula.
However, this could all go out the window if the teether is frozen or heated up to high temperatures.
Because of this, I would advise against putting a silicone teether in the freezer like some people suggest doing.
Teething necklaces.
These are just straight-up dangerous, and should never be used.
I know that a lot of natural mamas love these and swear by them, but children have actually died from using them, and there's zero scientific proof that they actually do anything.
Teething tablets.
These can be downright dangerous. The FDA discovered that a popular brand of the tablets (Hyland's) contains elevanted levels of beladonna, which can have life-threatening effects on a young child.
These tablets can cause, among other things:
seizures
difficulty breathing
lethargy
excessive sleepiness
muscle weakness
skin flushing
constipation
difficulty urinating
Wooden toys and natural fabrics are safest.
If safety is your number one priority and you don't want to expose your little one to any plastics or silicones, you can't get much better than wood or natural fabrics.
There are many to choose from, and there are only two small downsides:
Your child might not like them. Some babies simply don't like wooden teethers.
Safety checking is necessary. Some wooden teethers could be dangerous and splinter. Only purchase from a reputable company.
Other than that, if you child is okay with them (and there's a chance they won't be) you really can't go wrong with wood.
DIY alternatives you can try.
You don't necessarily need a teething toy. We have a few at-home natural alternatives you could try first.
A frozen washcloth. Simply wet a washcloth, put it in a ziploc bag, and pop it in the freezer for about half an hour. Eco-friendly and cheap! The cold is soothing on tender gums, the texture of the cloth is interesting and appealing to curious mouths, and as there are no harmful materials to worry about. Eco-friendly and inexpensive!
Wooden spoon. If you have one laying around the home, they can be a quick alternative to a wooden toy. A good-quality wooden spoon will be sanded down so smoothly so there is no possibility of splinters, and they're very easy for baby to hold onto. The different surfaces of the handle and bowl of the spoon provide a variety of appealing areas to chew on.
Frozen bagel or banana. Similar to the washcloth idea, a frozen bagel or banana can be a wonderful idea. As it thaws out, it will become softer and baby can gleefully nub it down without any possibility of dangerous splinters or chemicals.