If you're going to be taking your baby out for the day, then trust me: you need a diaper bag.
There's always going to be the time when you need to perform an emergency diaper change, and it's always a good idea to have snacks and bottles on hand.
But why are diaper bags so… ugly? Granted, they're practical, but not everyone wants to carry a polkadotted bag that looks like it might have bene passed down from your grandmother.
It doesn't need to be so!
Here are 17 trendy and practical diaper bags for moms with style!
Hip Cub Weekender Tote
Why we love it: From a daily diaper bag to a weekend tote for your kids' sleepover with grandma and grandpa, this 9-pocket canvas favorite features an on-trend pattern that is "totes adorbs."
Dads won't even mind transporting it when needed. It's not too bulky but big enough to handle the accessories of more than one child and its wipeable interior makes sticky spills a breeze to clean.
---
Why we love it: For mamas who love extra accessories, this affordable 7-piece set is exactly what you're looking for.
In addition to the roomy tote that looks like it belongs on a trip to the Hamptons, there's a small purse with carrying strap for mom, a changing pad, two different size accessory bags for keeping things separate (and clean), an insulated bottle bag, and handy stroller attachments.
---
Why we love it: It's newly redesigned with a bevy of features that moms and dads have requested!
Take it from hands to shoulder to stroller all the while having easy access to the tech pocket for your must-have parental gadgets. It can even hold a laptop or tablet up to 15" with room to spare for baby's essentials.
Featuring a modern chevron-chic design, this tote features a secure zip-top closure and 7 exterior pockets for added convenience.
---
Why we love it: Make a statement with this functional yet fashionable choice!
Featuring 7 pockets that help you keep everything strategically organized, this lightweight carry-all is sleek enough to be a tote for yourself on the days you don't need to use it as a diaper bag.
It converts to your shoulder or stroller easily for a convenience of carrying options—and the spacious design is unparalleled without taking up too much of a footprint.
---
Why we love it: Making a weekend away a breeze, this oversized yet lightweight tote is perfect for containing your kids' stuff—as well as your own!
The fact that it's machine washable makes it a must-have, though its vegan leather straps are an important eco-friendly feature.
The snap-top closure means easy access to its 4 interior pockets, but we also love the 2 extra-deep exterior pockets that will keep sippy cups and bottles snuggly in place.
---
Why we love it: Fool everybody into thinking you're carrying a purse with this designer-style diaper bag.
Seven well-disguised exterior pockets are super handy for when you're on the go.
Its spacious interior features 4 organizing pockets, and it includes a changing pad and stroller attachments for whenever you may need them. Plus, the metal feet keep your bag from sitting directly on sketchy surfaces. A win win!
---
Why we love it: Health-conscious moms will love that this bag is BPA- and phthalate-free!
Its trendy design features a wipe-clean surface, an adjustable shoulder strap for moms of all heights, and zipper closures on the exterior pockets and main compartment to keep public humiliation to a minimum (not that we've ever dropped soiled clothes in a store before). Nine pockets, including two insulated ones, make organizing simple and straightforward.
---
Why we love it: Ideal for babyhood and beyond!
No one will know that this high-end designer bag contains diapers. Accented with 14-karat gold-plated hardware that's flashy in all the right ways, its sleek black nylon construction features a wipeable polyester lining to ensure its usability for years to come.
An inner zippered pocket is ideal for containing wet clothes and an easy-to-access diaper pouch along the back wall will be your lifesaver in more than one situation.
---
Why we love it: Display your whimsical side with this playful pattern and channel your inner free spirit with the plethora of uniquely sized pockets.
We love the shoulder-, crossbody-, and stroller-friendly carrying options, plus the separate insulated bottle holder that you can take or leave home as needed. And the changing pad is perfect for an encounter with a not-so-magical mess.
---
Why we love it: There's nothing complicated about this one! Sweet feathery arrows point to a bag that confidently meets your needs with simplicity and style.
Its durable canvas construction zippers closed at the top—a must for hiding any unsightly situations that may arise. And it has internal and external pockets galore—in case you need to fit more! It also includes a matching changing pad.
---
Why we love it: Versatile is the name of the game with this satchel-style diaper bag! A strategically placed zipper allows this purse-like tote to expand, creating 20% more room—which, let's face it, is never a bad thing.
Health-conscious mamas will appreciate the fact that it's BPA-, phthalate-, and PVC-free. A front zippered pocket is designed to keep your phone accessible at all times.
Plus, its 11 pockets are a mom's dream come true, especially if you have (or are planning to have) more than one child.
---
Why we love it: Cute and compact, this casual bag will fool everybody into thinking its just a purse.
Great for the minimalist mom, it provides 6 internal pockets with plenty of room to spare as well as external pockets that can comfortably hold everything from water bottles to snacks to your most-needed mommy essentials.
The included changing pad makes this fashionable bag even more functional.
---
Why we love it: A convenient zip-down front pocket transforms into your baby's personal changing table with removable pad! Eight organizer pockets help you keep food, clothes, bottles, diapers, and wipes completely separate.
Toss wet or soiled clothes into the included accessory pouch for containment. Attach the bag to your stroller with the included loops for ultra-convenience. Plus, the classic yet neutral design will go with everything in your wardrobe.
---
Why we love it: Simple and sleek, this affordable nylon bag reminds us of a luxury brand! It can fit a small laptop or tablet—for you or your kids.
It's simple to wipe clean which is a total plus. And it features 7 pockets total among the interior and exterior that will help you keep everything in place.
Plus, the insulated bottle holder and included changing pad are the whipped cream and cherry on top.
---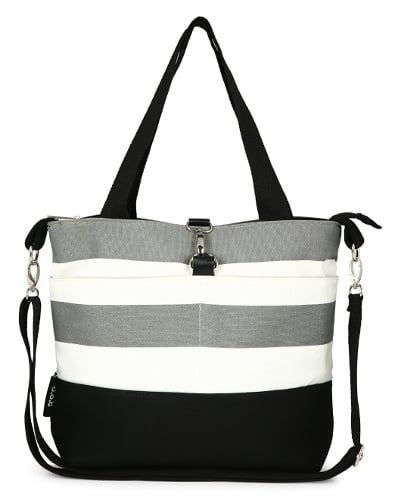 Why we love it: Perfectly patterned for preppy moms, this compact canvas carry-all will hold exactly what you need for your toddler or older child.
The zip-top closure will keep it all in, but the sectioned pockets on the interior and exterior are perfectly placed for easy access. A detachable shoulder strap, stroller attachments, changing pad, and insulated interior bottle pocket are added bonuses that will make your life easier.
---
Why we love it: Type-A moms, rejoice!  With 13 pockets (the most out of any bag on our list), this hands-to-shoulder-to-stroller design gives you the flexibility you need to tackle your day your way.
A back exterior pocket provides enough room for a tablet while the front pockets are ideal for your must-have items. Spacious and stylish, you'll want this bag for everyday use.
---
Why we love it: Taking you from day to night, this runway-inspired bag provides you with style and utmost flexibility.
Metal feet keep it off the ground and the included changing pad keeps your youngster off questionable surfaces.
We love the fact that it's BPA- and phthalate-free. Plus, the 12 spacious and strategically placed pockets, including some insulated ones, are perfectly placed so that you can get what you need when you need it.
What To Look For In a Diaper Bag
When it comes to what's important in a diaper bag, there are a few things to think about.
Storage is Key
Storage should be the first and most important thing you take into consideration. There are a lot of things you'll want to put in the bag, including:
For Baby
Extra clothes
Toys
Wash cloths
For Mom
Cell phone
Keys
Wallet
Makeup bag
Sunscreen
Water bottle
Snacks
Any good diaper bag will be able to fit (most!) of these things and have them in convenient reach, without smooshing it all together in a big mess.
Ithink a bag with insulated pockets (to keep bottles/snacks cool) and lots of separate storage is ideal, since you don't want cool bottles sweating on diapers, and things like that.
Keep in mind that your needs here will vary depending on how much stuff you want to bring with you. If you need more diapers, or less clothes, it will make a difference.
Weight: The Lighter The Better
How heavy your bag is makes a huge difference; you're going to be lugging it around all day, and it's going to be full of stuff, so you want one that's not going to break your back, right?
You would be surprised at how heavy some bags are; depending on the style, some can weigh 2+ pounds more than the lightest ones, and that makes a huge difference when it's loaded up with gear.
Easy-to-Use
Imagine yourself in a public restroom with your baby on the changing table. One of your hands is busy with baby, and then you realize you left something important in the bag.
If you can reach in the bag and retrieve whatever it is you're missing with just your free hand, you're really in business. It's a lifesaver.
An ideal diaper bag will not only open wide so you can reach inside to look around for something among the other contents, but the interior will ideally be lightly-lined to make it easier to see what's going on.
If your diaper bag is lined in a dark color, it's going to be hard to see, and you're going to be frustrated pretty quickly.
The Enclosures: Also Important
Contributing to the ease-of-use is the type of closure the bag uses. Typically, diaper bags either use velcro, a zipper, or a magnet latch.
The best type of closure is a zipper: it makes sure the bag is sealed tightly and nothing is going to fall out while it's knocked around, and zippers are often the only type that can be opened with one hand.
Magnetic latches might seem handy, but once you have your bag loaded up with diapers, clothes and everything else, chances are it's not going to stay shut.
You absolutely want to avoid velcro. 
It's noisy; awful if you want to open it around a sleeping baby.
It sticks to everything, and can quickly turn your favorite sweater to spaghetti.
It will eventually wear out, rendering your fancy new diaper bag useless.
Material: Makes It Easier to Clean
The material is important to think about! Your bag is going to get kicked around, dropped in the dirt, get baby fluids all over it, and more. I'd strongly recommend going for a bag that's easy-to-clean, made of material that won't absorb and stain, and can be wiped clean both inside and out.
The ideal is a bag that you can throw in the washing machine, but those are few and far between. If you can find one, great!
The Different Types of Diaper Bags
There are a few different types of diaper bags available. The first thing you should do is decide which type will work best for you. Here is a list of the different types of diaper bags available.
Backpack Diaper Bags
If you tend to bring a large variety of items with you when you're out and about, this might just be the best choice for you.
These are similar to a regular backpack but have specialized pockets for things like diapers, wipes, changing pads and other small baby items.
Since they're worn on the back, and the weight is distributed evenly across both shoulders, they can be great for those with back problems when compared to other types of bags..
If you're looking for versatility, these are probably the best type of diaper bag, but they generally aren't the most stylish. However, if you're going for functionality over aesthetics, you really can't go wrong with one.
Tote Diaper Bags
These look like a larger handbag, but have extra pockets and sections for holding all of your baby items.
While some totes are more about functionality than fashion, there are some models that are definitely quite nice looking and fashionable, too!
Some totes have removable/adjustable straps, letting you turn it into a backpack diaper bag or a messenger bag.
What might be a downside to some parents (or a bonus) is that most tote bags have to be held in the hand or slung over one shoulder. Backpack diaper bags will spread the weight over both shoulders, so if you have a problem with one of your shoulders, a backpack-style bag might be the better choice
Messenger Diaper Bags
Last but not least, messenger bags are designed with one long strap to be worn on the shoulder or across your chest.
These messenger diaper begs are generally marketed toward men, but they're perfectly usable for women, too!
Depending on the model, some messenger bags have an adjustable strap so that you shouldn't have to worry about it not fitting properly, or even better, you'll be able to share it between both parents.
Some models come with perks like insulated bottle holders, padded changing pads, etc. As they're geared toward men, these messenger-style bags might just be the bag for you if you're a daddy.
Stroller Handlebar Bags: Not Recommended!
Stroller handlebar bags on first glance might seem like a great option for parents that use a stroller and also want a diaper bag to go along with it.
They have long straps which are meant to sit on the handlebars of the stroller, making it easy to carry around with you.
The problem is this: experts (the Juvenile Products Manufacturers Association) agree that stroller handlebar bags can be a safety hazard.
The problem is that in certain situations, depending on both the stroller model and how heavy the handlebar bag is, it can possibly lead to the stroller tipping backward.
If you're determined to use a stroller as well as bring a lot of gear along with you, you might consider purchasing a convertible stroller with a basket or other storage area for putting everything inside.
This can be a great alternative to using a regular stroller along with a stroller handlebar bag — remember, safety should always come first! If not, a backpack diaper bag or any of the other types can easily be used while pushing a stroller.