You might've seen everyone from Cardi B to the Kardashians talking about using a postpartum wrap to get their body back after giving birth.
But do they actually work? And are they for everyone?
It's not just a fad: it is true that postpartum belly wrapping is a tradition in various cultures and has been for thousands of years. But is there a reason for it?
The fact is that there are VERY good reasons to try out a postpartum belly wrap, and I honestly believe every mama out there would benefit from using one.
The benefits of using a postpartum girdle / belly wrap.
Postpartum wraps—known in the medical world as abdominal binders—have been prescribed for years by doctors for patients after abdominal surgeries, and this also includes c-sections.
Other benefits of postpartum belly wraps include:
Helps post-delivery recovery. (Note: this is not scientifically proven.) After you give birth, your midsection is deflated, and it takes a while for the abdominal muscles to regain strength and return to its normal size quicker. If you had a c-section delivery, they add great incision support and help recovery immensely.
Helps with posture & lower back pain. They add a lot of support to the lower back and pelvic floor muscles. It REALLY helps if you have lower back pain.
Helps with confidence & self-esteem. It will immediately get your tummy area back into its normal position, letting you wear your regular clothes without feeling self-conscious. This also really helps mentally, because you no longer feel like you're going to look "pregnant forever."
Helps with comfort. You might think that wearing a girdle around your belly will be uncomfortable, but with a good one, it's actually the opposite. No more feeling like your organs are moving around in the extra space, and you can actually sit up in bed without using your arms.
Now, this is not to say that a postpartum belly wrap is a magical device.
It's not going to make you skinnier or lose weight. After wearing it for a couple of weeks/months, your abdominal area is going to go back to looking what it looked like before you got pregnant.
You should also know that your tummy muscles will most likely regain their strength and shape on their own over time, without the aid of a belly binder.
The thing is, for some women, it can be very difficult to get active and recover quickly because of the discomfort and pain that can linger post-pregnancy.
The real benefits are the ones I listed above, and if you ask me, they're priceless.
The best corset for most users.
A big problem with the some of the other wraps (even other Belly Bandit wraps) is that they're poorly made. They start to bunch up and are no longer flat, which makes them really show under clothing.
The Mother Tucker (click here to check price on Amazon) has a silly name, yes. But it's the most-loved postpartum girdle that avoids the downfalls of others that are available.
However, this one isn't the best for those recovering from a c-section, because it puts quite a bit of pressure and you'll probably want to avoid that on a fresh c-section scar.
But having said that, it's very well made, without velcro of any kind, and when you put it on it stays in place without rolling up or bunching.
No velcro = godsend.
Many belly wraps use velcro as a fastener, and believe me, you don't want one that uses velcro.
There's nothing worse than trying to feel confident and sexy again, and then being able to hear the velcro when you move around. Ugh. A no-go if you're trying to hide the fact that you're wearing something underneath your clothes.
The Mother Tucker (I still hate the name) uses no velcro whatsoever. It instead uses hook fasteners that are not only silent, but much more secure and makes sure there are no bulges.
It's comfy as all heck.
Not only is it crazy comfy to wear, but it gives great back support and makes you feel great in your clothes again. Unlike some other options on the market, this one is almost invisible under clothes.
There's nothing worse than putting on a tight-fitting shirt only to see your belly wrap sticking out underneath. Sure, I guess it's fine if you wear sweaters, but what's the point in wearing a girdle if you do that?
Sizing.
Some people have sizing issues with this wrap, and it looks as though they tend to run small. It's supposed to be tight, so don't be alarmed if it feels that way; I do think that's why some people think it's too small.
If in doubt, go smaller instead of bigger. It will be tight, but it will loosen up over time as you wear it.
The instructions tell you to pull it up over your hips, but you might find it a lot easier to lide down on it and fasten the hooks that way. Get help! Putting these girdle can sometimes be a two-person job.
No back fat.
Something you can experience with a lot of other similar products is the dreaded back fat that squishes out from under the wrap.
It seems as though this is a non-issue with the Mother Tucker. I've never heard of anyone having a problem with it!
The price.
The biggest downside of the Mother Tucker is the price. At around $90 it's a considerable investment, but trust me, when it comes to belly wraps, you don't want to cheap out.
The best solution for c-section recovery.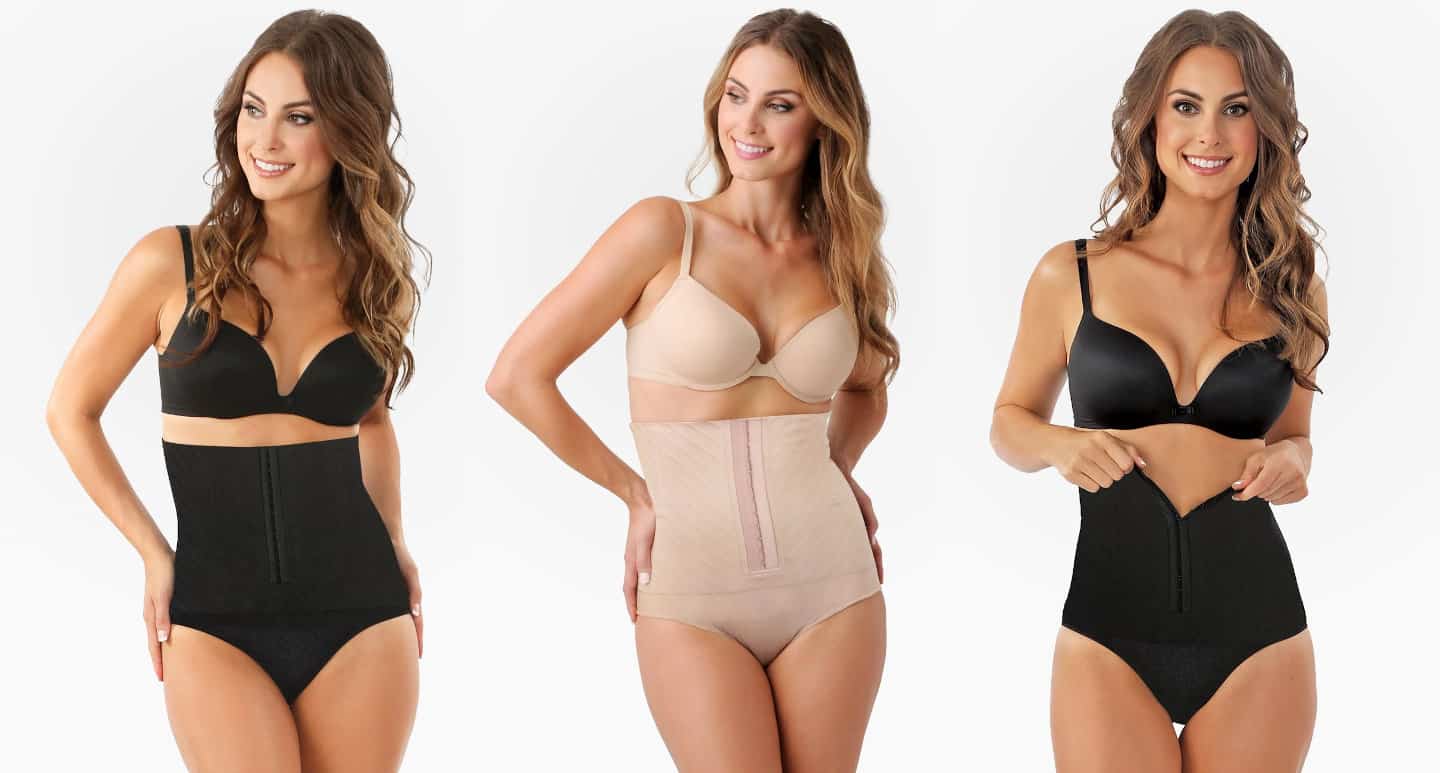 For those that are recovering from a c-section birth, the Belly Bandit C-Section & Recovery Panty is a great solution.
They're specifically made for c-section recovery and offer support in exactly the right spot.
They're easy to put on and designed to not stink with moisture-wicking and breathable fabric.
The only downside of these panties is that they're not well suited for very petite women. You can always give them a try and return them if they don't work for you, though.
Here is a size chart for the panties:

The thing is, after using these for a while, your stomach will shrink a bit and they might be a bit too big for you. Because of this, you might want to size down or even buy 2 pairs to see which fits best.
The best thing about these panties is that they're actually covered by many US health insurance companies. You'll have to do some research into your specific insurance company, but there's a good chance you'll be covered.
What this is and isn't about.
There is a big difference between using a postpartum girdle and waist training, and I wouldn't want you to confuse the two.
What this is about:
Getting active again after giving birth.
Feeling confident and comfortable again quickly.
Relieving lower back and muscle pain.
Recovery from a c-section birth.
What this ISN'T about:
Waist training, which can actually be dangerous.
Weight loss fads or losing weight at all.
Waist training is a completely different animal. It typically refers to rather extreme binding that is meant to create an exaggerated hourglass figure, and can actually permanently squish the internal organs.
Now that's cringeworthy.
Wearing girdles for postpartum recovery are only meant for short-term, and not meant to cause any changes to your body that wouldn't have happened on their own.

The controversy.
As you might imagine, these belly wraps aren't without their controversy.
As of today, there have been no medical studies performed to back up the claims that they help the abdominal muscles recover any more quickly than without any support at all.
They can be dangerous if used improperly.
They're not a replacement for a proper exercise and diet regimine, which is proven to help recovery.
Having said that, a lot of people swear that wearing a girdle after giving birth helped them recover much quicker.
A good reason for this is probably that they do make you much more comfortable and reduce pain, letting you get active quicker. In turn, this helps move your recovery along faster.
There is also a whole wack of controversy about corsets and waist-training in general. Of course, this is not what this is about at all.
Can postpartum girdles be dangerous?
Generally, there are no dangers associated with wearing them if you use them properly.
As you can imagine, if you're binding your stomach too tightly it can actually be dangerous. You'd be putting excessive pressure on your pelvic floor, ribcage and core which, at the very least, would be negativing any positive effects.
Experts also wearn that wearing a corset too long can actually have the opposite effect: making the core muscles weaker and dependent on the corset.
There used to be the concern that corsets could cause skeletal damage, which is now believed to not be a danger.
But if you use them as directed, there shouldn't be any problems.
What's the difference between a belly band and a postpartum girdle?
There is some confusion here.
Basically, a maternity support (belly) band is used during your pregnancy for one of two reasons:
To support your pregnant belly and lower back, relieving pain and making day-to-day life easier.
To hold up unbuttoned pants (which you can't button due to pregnancy), letting you wear your non-maternity clothes longer.
A girdle is used post-pregnancy for all of the reasons mentioned above.
Why you shouldn't cheap out.
There are a variety of different belly binders available, from ultra cheap-o to relatively expensive.
In my honest opinion, you don't want to go for a cheap one.
The difference in comfort, support and overall build quality are no comparison.
Something like the Belly Bandit is almost perfectly form-fitting, so there's no extra material sticking out, it tightens almost perfectly, and offers good support.
Compare that to something like the cheap Medela wrap that's available for $20 or so. It's just not nearly as comfortable, and you'll have material sticking out under your clothes which makes it obvious you're wearing something underneath.
Believe me; I'm never one to spend a lot of money on something unnecessarily. But when it comes to postpartum wraps, they're one thing you shouldn't cheap out on.
When (and how long) to wear your girdle.
It's recommended that you start using your girdle right after you give birth for the maximum benefit. If you had a c-section birth or other complications you might have nurses checking on you often which might make it a pain, though.
You should wear it as often as possible, too. If you get one like the Mother Tucker, it should be so comfortable that you'll feel better with it on than without, so it's not so hard.
A lot of moms only take theirs off to shower! That means even during sleep.
There's not an exact timeframe of how long you should wear it, but generally you'll be looking at 6-8 weeks postpartum. You'll want to keep using it as long as it's more comfortable to be wearing it than not, I'd say.
Can a postpartum girdle make you lose weight?
Some of you might think this is a funny question, but it's actually a common misconception that a girdle can make you physically lose weight from your abdominal area.
Nope. There are a lot of benefits to wearing a girdle, but losing weight isn't one of them.
Summing it up.
If you just want to know which products we recommend, here you go:
For those recovering from a c-section, try the Belly Bandit C-Section Undies
For everyone else, try the Belly Bandit Mother Tucker corset.
Please let us know in the comments below if you have any questions!