When we found out we were pregnant with our first child, my husband and I lived paycheck to paycheck.
It's an easy trap to fall into; we didn't have "careers", we had jobs (go to college, kids! I wish I had.). I'm sure some of you have been in this position: we weren't exactly the best at "financial planning" – we barely got by on our wages from two full-time jobs.
For the previous five years, we didn't need much more than our Xbox and Netflix. Now it was time to get serious.
My angel of a husband, Matthew, sprang into action: he applied for a position with a large food service distribution company to drive semi-trucks and deliver to various restaurants.
The pay would be good, but the work would be brutal – not only physically, but emotionally: Matthew was going to have to stay hundreds of miles away from home several times a week.
When he was offered the job, the hiring manager was adamant that Matthew and I have a serious discussion about whether this was going to be right for us before he made his decision.
Along with the time away from home, there would be days when he would only have ten hours between shifts to wind down from work, spend time with us, eat "dinner", and get a full night's sleep. Additionally, his work day would now start around 10:00 PM, so any sense of normalcy in his schedule (even during his time off) was going to go right out the window.
Since we didn't have the luxury of choices or time, we agreed that he should take the job despite the drastic changes it would entail. We not only needed to replace my income; we needed benefits (neither of our two previous jobs offered insurance).
I was admittedly pretty scared – I would not only be without my husband/best friend for days at a time, but I was also going to have to care for a baby all by myself. I had never even changed a diaper before.
If you are facing a similar situation, it is totally normal to be worried. I remember thinking, "plenty of moms do it all when the father is in the military and on deployment, so why can't I?"
The problem was, I didn't know any military moms, so I couldn't exactly get advice from them on how they did it. So, if you are facing a life change of this caliber, here is what I learned – and what I would have done differently.
1. Get Educated.
Before I got pregnant, I was not very familiar with babies in general. A couple of my friends had babies, but I had never been up close and personal with one on a day-to-day basis.
I needed to read up on this, and fast: after all, this was going to by my baby, and I sure didn't want to feel clueless once she was here and counting on me.
I read every baby book I could, scouted out websites (including MomTricks!) that offered advice, and talked to every mom I knew so I would feel ready for any situation that would arise.
I wouldn't be able to call my husband and ask for his opinion on something since he would be on the road, so being well-read on everything baby would have to be the next best thing.
There were a couple of things that I didn't do that I wish I would have done:
Take a birthing and/or child education class. I didn't plan ahead/never found the time for it and decided I would just wing it once I went into labor, but in hindsight, I think it would've helped out a lot.
Take a CPR class. Thankfully, I have not needed it, but this is something every mom should know. My husband does happen to know CPR, but what are the chances that something will happen one day when he isn't home? This is something I will have to remedy very soon, but don't take your chances like I did – a few hours of your time could save a life, so learn CPR as soon as you can.
2. You Have To Find Some More People!
This is usually what most would call "setting up a support system", but that sounds so clinical and cold to me.
In the months before you deliver, call on any family or friends you have nearby to help once the time comes.
Trust me, you will need it once you come home from the hospital: I was not informed that I would not be able to drive for two weeks after delivery, so any plans of running out for food or to take Maxine to her first doctors appointment were now going to be an ordeal.
I was lucky to have both my parents and in-laws in the area at the time, so it wasn't too difficult to arrange a ride, but if you are on your own out there, make sure you have someone available to cart you and your cutie around for the first few weeks if anything unexpected arises.
Calling in an outside hand with the grocery shopping, cooking, and cleaning would have really helped me out if I had done it more.
My husband was also my personal chef up until this point, so I never found the need to brush up on my own cooking skills – big mistake once I realized how monstrous my appetite was going to be now that I was breastfeeding.
One thing I came to look forward to when Matthew was working was our weekly dinners with my dad – he would bring groceries and cook us a meal in exchange for a little Grandaddy/Maxine-time. So if you have a friend or family member that can come whip you something up or bring you a meal, don't turn it down.
One thing to remember is that it is very easy to get isolated when your partner is away from home. I am naturally an introvert, so sometimes I sort of do that on purpose, but you don't want to go down that path.
Keep in touch with your friends and family as much as possible: it is easy to get depressed when you're stuck in "mommy-mode" 24/7, and that's not good for you or your family.
Even a little phone conversation can boost your mood, but getting out of the house to go to lunch with your mom or shopping with a friend is a must every once in a while.
3. Be SuperMom.
I learned very quickly that this was not going to be as lonely as I thought it would be – there was no time!
Turns out, Maxine was a big fan of eating, so in the short breaks between nursing sessions, I would try my best to do every chore I could so Matthew wouldn't have to come home to a nuclear disaster of an apartment.
I had to accept that Matthew would no longer be able to help as much around the house as he used to, so the chores and everyday things he was doing before were now going to be my responsibility (my "favorite" being cleaning the toilets… gross).
Rather than being resentful, I used this opportunity to be SuperMom: my job was now to keep Max happy and the house somewhat clean – and try to let Matthew relax when he was home instead of nagging him to take the trash out.
One of my favorite SuperMom moments: the first time I made it up the stairs to my second floor apartment with 40 lbs of the Max/baby carrier combo on one arm and 15 bags of groceries cutting into my wrist on the other… without wetting my pants!
Take the time to learn those tasks that your partner would usually take care of, whether it be simple household repair, mowing the lawn or even changing the oil on your car.
It will help take some of the pressure off once daddy comes home, plus it's incredibly empowering to learn a new skill or two. I learned during this time that I'm one of the select few that actually likes to assemble furniture.
4. Keep In Touch.
This may be an obvious one, but communication with your partner when he is on the road is key.
With today's technology, it is getting much easier to connect with loved ones through programs like FaceTime and Skype. If one of these is not available to you, you can text, talk over the phone, or even write good old-fashioned letters if dad is going to be away for a while.
Being a newborn, Maxine wasn't much of a conversationalist over the phone or FaceTime, so I made sure to keep Matthew updated on everything via countless text messages and videos.
And I do mean everything: he's probably read about every barf and bowel movement she's ever had.
Wouldn't want him to feel left out, right?
In addition to the 2.4 billion texts I sent, I used the voice memo feature on my phone to record those precious new baby sounds and her earliest laughs. I think sending those really helped Matthew when things got lonely on the road.
I was very worried that he would miss a lot more milestones than he actually did; anything that I didn't want him to miss was incredibly well documented on camera or video.
It works both ways, too: if your partner is going to be away for more than a few days, record a few videos of him talking to your baby or reading him a story, and show baby pictures to help them stay connected.
I was lucky enough to have Matthew home every few days, but for those of you that will be away from your partner longer, photos and videos can help your little one stay familiar with Daddy's face and voice.
Your conversations don't have to be all baby, all the time, either. Actually, make sure they aren't: your partner wants to hear from you, too. You had things in common before you had a baby, didn't you?
Matthew and I listen to the same radio shows and podcasts when he's on the road so we always have plenty to talk about outside of Maxine, and we have several inside jokes and quotes from stand-up comedy and movies that we text back and forth to make each other laugh.
It's important to keep your relationship strong enough to withstand the stress of your partner working away from home – to do that, communication is paramount.
5. Make Time For Mommy.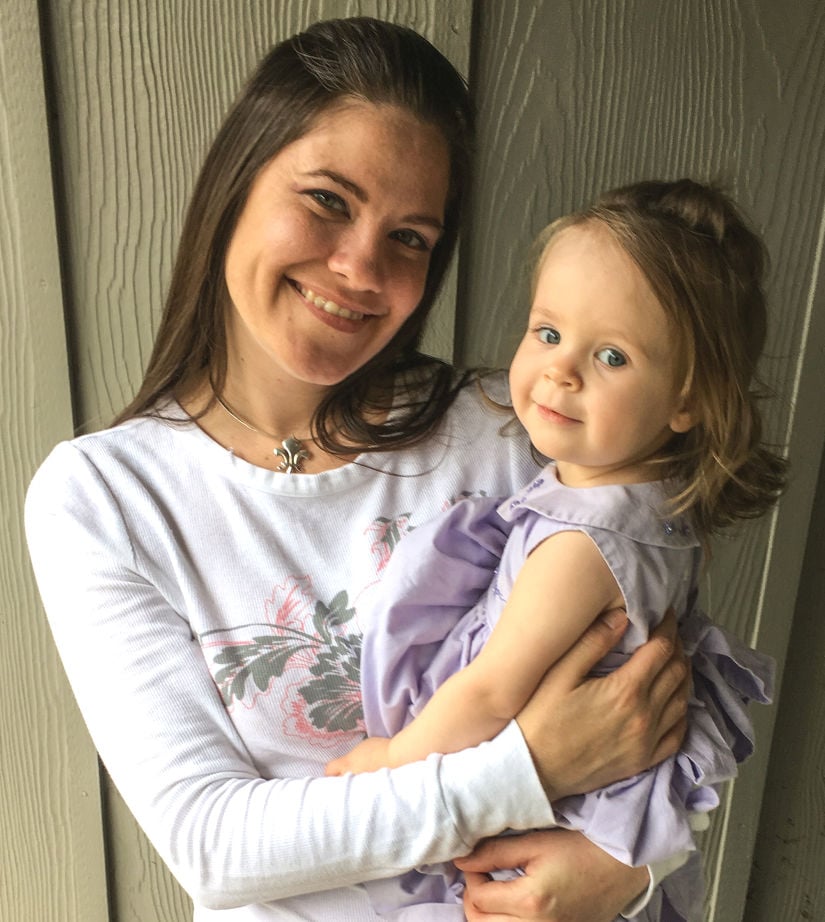 It's easy to lose yourself in Mommyland when you are caring for a family and a household around the clock. We've all asked ourselves the question, "How long has it been since I've taken a shower?"
It may seem unobtainable, but with a little creativity, you can absolutely find a few minutes to do what makes you relax. I was able to take Guinness World Record-worthy showers once I discovered that I could drag Max's "Nap-Nap Chair" (or bouncy-seat, as most would call them) into the bathroom.
I would sing to her while I bathed if she was awake, but 90% of the time the combination of the heat, noise of the shower, and vibration of the chair would make her pass right out. That chair was my best friend.
I made sure that if I was tired, I would nap when Maxine napped – I could do the dishes later.
You can't get anything done if you're a complete zombie, so make sleep a priority and don't always spend that precious nap-time trying to keep the house spotless. Nobody is going to care if the toys aren't picked up, I promise.
When Max was asleep for the evening, I would take a long "Reading Bath" or spend a couple hours unwinding on my beloved Xbox – both things I enjoyed before I was a mom. I also went back to my part-time job at The Container Store (which I freakin' love) after 3 months – I worked only once a week, but I believe those few hours outside of the house really helped in the sanity department.
Life isn't all about scrubbing poop-stains and washing bottle parts. You need to make time to do the things you love to do outside of covering your baby in kisses all day – you do still have an identity outside of being Mommy.
You may have to be a little more flexible with your routine and creative with your time when your partner is away, but trust me, the last thing they want to come home to is a stressed out, milk and vomit-covered version of you.
A Is For Attitude.
As with a lot of things in life, your attitude about this way of life is going to decide everything. Maybe you will be a little tired at first, but look at it this way: you get your baby all to yourself when your partner is away from home.
Looking back, I think Matthew would have felt very left out most of the time if he had been home daily. Maxine was pretty much attached to my chest for the first few months; we took naps together and co-slept during the night.
I missed my husband when he was working, but the Baby Cuddle Time at night was epic. Maybe I didn't have Matthew's help all the time, but I did get tons of bonding time with Maxine. Staying positive is going to be essential in helping your family survive a job like this.
When Daddy is home, don't be too rigid about routines or doing things your way. It is easy to get set in your own ways and irritated when he doesn't change a diaper like you do or put the baby to bed at exactly the same time as you do, but give him a chance to be hands-on if he offers. The last thing you want him to feel is like he's in the way.
Most importantly, never start getting resentful if your partner has to work away from home. It's just as hard, if not worse, for him to be away as it is for you to have him away.
Could you imagine being away from your baby for days, or weeks at a time? Try to put yourself in his shoes and remember that you are part of a team. You are both doing your part, and you happen to be lucky enough to see your baby all the time.
Maxine is almost two now, and I realize that things may get a little rougher as she gets older and starts realizing (and reacting) when Daddy is going to leave, but I'm confident that we will make it work just as we did before. Perhaps life won't always be "normal" for us like it would if Matthew worked a 9-5 job, but we think that would be boring anyway.