Let's be real: being pregnant hurts. Particularly, somewhere in the back, legs and feet area.
I couldn't believe how brutally painful it could be just to stand and walk around. It just sucks.
And it gets worse:
My feet actually grew a FULL size larger. And somehow, they never went back to my old size. They just kind of stuck that way. I'm permanently a size 8.
And according to the American College of Foot and Ankle Surgeons, there can be significant and permanent changes to the arch of the feet.
My ankles also really swelled up, which adds so much more stress to the feet. Chances are you're going to experience the same thing.
Let's get one thing out of the way, though: there is no such thing as "official" maternity shoes. That doesn't mean that some shoes are way better for those of us who are pregnant!
What works best?
Generally, what I found was best when out and about were flats or sandals.
Flats are a great choice that you can't go wrong with, and there are a lot of nice flats available these days. You'll have to put away the fancy heels, but it doesn't mean you can't find some nice, cute shoes to wear. No matter how much you like heels, you should avoid them.
Sandals or flip-flips are great, too, assuming you get a good quality pair. Get a pair that has good arch support like Orthaheel. These are nice even to wear around the house, because that extra pregnancy weight can take a toll even if you're just walking in the house all day.
What about high heels?
Sorry, but you're going to have to skip the high heels, at leave them for special occasions.
According to the panel of health experts at BabyCenter, the reasons are:
Swelling of the feet is common during pregnancy, making them excruciatingly uncomfortable, especially in your third trimester.
Lower back pain is more common due to the hormones your body produces during pregnancy. The hormone relaxin causes your ligaments to loosen up. This makes your pelvis loosen up, but then puts more pressure on it, causing the pain.
Heels change your posture slightly, putting pressure on the knees and ankles and causing pain there.
Some women feel more clumsy or dizzy during pregnancy, and the last thing you want is to fall.
Of course, sometimes you can't avoid wearing heels. If so, try to at least stick to shoes with a small heel to be on the safer side.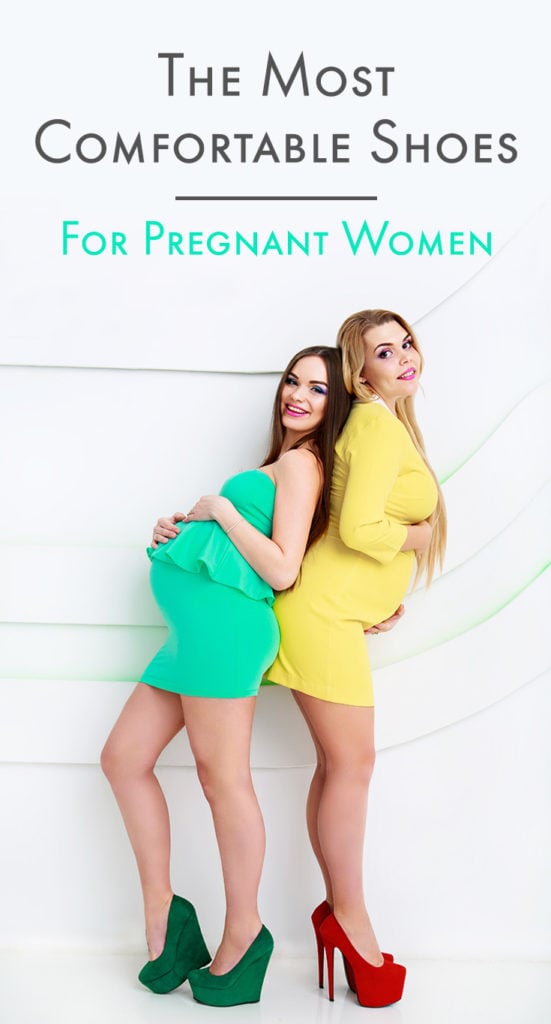 My Favorites: Gifts From The Shoe Gods
So, which shoes are good for us pregnant folk?
The main criteria for any footwear for pregnant women are:
Easy to put on: It's hard to put on shoes when you're 8 months pregnant and can barely bend over. Slip-on shoes are key here, especially as your pregnancy progresses.
Supportive & comfortable: This should be a given. Your feet and ankles are going to get s-o-r-e and it's only going to get worse if your shoes aren't providing enough support.
Stylish: Okay, maybe the flip-flops don't fit this criteria, but there's no reason why shoes can't be cute.
Roomy: Yep, your feet are probably going to swell up at some point during your pregnancy. If you're shopping for shoes and they haven't yet, seriously consider buying a half or full size bigger than you normally wear.
Casual and sporty shoes that you'll love.
Buy on Amazon
Skechers are awesome shoes! They're slip on so you don't have to mess around with tying up laces (which is a pain the more pregnant you get), and they have great arch support and are very lightweight, making them really, really comfy. In fact, one of my nurse friends uses these because she's on her feet all day. And she's not even pregnant.
I really, REALLY recommend these shoes! Trust me. You'll love them.
---
Toms are classics, and you can't go wrong by picking up a pair. They're all easy to slip on, and come in a huge variety of colors and designs. You might think they don't look comfortable (so did I at first) but once you put them on, you'll change your mind.
A great thing about Toms is that for every pair purchased, they donate a pair to a child in need! What a great company.
---
>Lucky's ballet flats are another great choice for comfy ballet flats at a lower price point. They come in a few different colors, but I like the ones I chose on the left the most.
---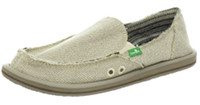 Sanuk shoes are really, really light, breathable and all-around comfortable footwear for the warmer months.
They're made of hemp, which I think is really cool. They're easy to slip on, look casual without being sloppy, and are a generally all-around good shoe.
---
Dansko makes a number of quality shoes that are ideal for pregnant women. They happen to be a favorite of nurses who are known to spend 8+ hours a day on their feet, so that should tell you something about how comfortable and supportive they are.
Summer shoes and sandals

You might know Dr. Scholl's as the company that makes insoles, but they also make a lot of great, supportive footwear. I particularly love the Rock Sandal! Look at it: it's super supportive and comfy, and they don't look half bad, either.
What's also great is that they're easy to clean with just water!
---
The Orthaheel Tide Slide-In Orthopedic Sandals have a sole is designed to have a lot of traction, so they're safer than a typical sandal.
What I particularly love is that they're soooo simple to put on. Unlike the Skechers, you can literally just walk into these and wear them. Most flip flops are horribly flat and offer no arch support at all, so these are a welcome change.
These are one of the best options for a summer pregnancy!
---
I know, I know: Crocs are some of the tackiest-looking shoes there are. But I'll be damned if they're not some of the most comfortable shoes you'll try, especially in the summer.
Lightweight, easy to slip on, nice comfy sole and they're also waterproof for days at the beach. What's not to like, other than the appearance?
---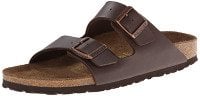 Birkenstocks have been around forever (since 1774!) so you can have faith that they make quality footwear.
Of course, they're not the cutest of sandals on the market, but they get it right where it counts: super, awesomely comfortable. The arch support is excellent and cushioned heel and toe are to die for when you're pregnant.
---
Winter boots:
If you live somewhere that calls for warmer winter boots during the winter, you might worry about slipping and falling even when you're not preggers. So when you do have a baby on board, getting boots that have good grip (deep treads) and will keep you from slipping is super important.
Plus, it just sucks having cold feet in the winter, so they have to be warm, too.
Ok, I know Bearpaw boots look like you're going for the half-rabbit look, but they're crazy warm and comfy, plus they have a great grippy rubber sole. They're made from genuine sheepskin, so they're not a vegan-friendly option if that's what you're looking for.
But other than that, you can't go wrong with them as a winter boot for your pregnant feet.
---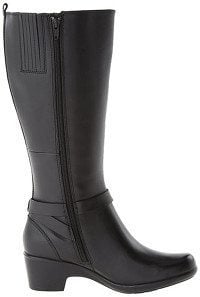 The Malia Poplar boots by Clarks are chic knee-high boots that are perfect for winter. They have a zipper all the way up the side, making them easy to put on and take off, and have a good, supportive sole. Being leather boots, they'll take a little while to break in, but once you do, they're great.
---
Along with the great comfy shoes they make, Skechers also makes a great winter boot that has all the comfort of the shoes, with the bonus of keeping your pregnant feet warm and toasty.
Like any good winter boot, they have great traction that will keep you from slipping in the nasty winter weather, too.
---
Hey Mama: Consider Getting a Belly Band
If you're suffering from bad lower back pain, you should seriously consider getting a belly band.
They add awesome support; they're kind of like weight-lifting belts for pregnant moms. I couldn't have lived without mine, honestly. And you can even get one that goes under your clothes.
If you're interested, I wrote a whole guide about them, too! You can see it right here.
Having Sleep Problems?
If you're having trouble sleeping, you could also consider getting a pregnancy pillow.
They're pretty incredible! I personally recommend the full-body ones, and you can read my guide on those here.
Are you looking for shoes but didn't find any you like here? Do you have any suggestions or comments, or even any questions? Let me know in the comments section below!